Sarah (Pharmie) takes us through her thoughts on her maiden voyage of her new Quintana Roo CD0.1

Two weeks ago, I decided it was time. I had this sweet new ride calling my name, and I was SO eager to take it out, despite a little apprehension being 11 weeks postpartum. I dug through my drawer to find a pair of bike shorts that fit me, handed Henry off to Steve, and set out for a quick spin to try everything out. I hadn't been on a bike since May and haven't been able to ride outdoors since mid-October last year. Henry and I posed for this pic before I set out: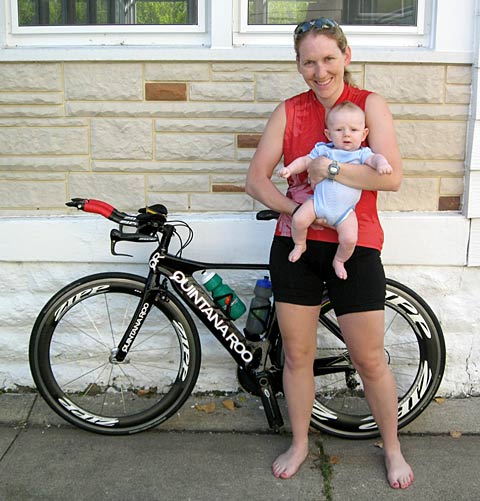 Henry likes the new ride. Mama likes it more!
It. Was. Glorious.
I only went for 15 miles or so, but I felt great. This bike is crazy fast, and though I was a little nervous that it would take a lot of time to get to know my
R2C shifters
, it seemed to click pretty fast. My average wasn't spectacular, but given my time away from the bike, it really wasn't that bad, especially considering the number of stop signs I hit.
I felt like
me
again riding. Although my running is progressing, my times aren't really coming down. I still feel slow and heavy, but on my bike, I felt like an athlete, like a person, not just a mommy milk machine.
I got home with a big smile on my face, and Steve snapped this photo:
Home after a quick fun ride.
I squeezed in another ride a couple of days later. Same thing. I felt great, and with that, I signed up for my first and only tri of the season - the
St. Croix Valley Sprint Tri
. The bike leg of my tri was only 10 miles, but most of it was one big hill with 7+ percent grade in parts. Having been on my bike only 3 times prior to the race, I was anxious to see what I would do. It was TOUGH, and I'll be honest, I thought I was going to lose my Gu by the time I got to the turnaround point, but I had so much fun. I can't wait to see where this bike will take me next year!