Sarah shares her story from her 12th consecutive(!) Twin Cities Marathon:

There will be races when you show up to the start line and know you're not in for a PR. Usually this is from being under-trained -- life or injury/illness got in your way. Whatever the reason, at that point you need to finalize your race strategy. Do you aim for a PR anyway and risk falling on your face? Do you assess your training and aim for a more appropriate finish time, or do you throw time out the window and decide to enjoy yourself? For my 12th consecutive Medtronic Twin Cities Marathon earlier this month, I chose that last strategy. At 16 weeks postpartum, I wasn't anywhere close to PR shape. I had squeezed in training that would get me to the finish line, but I knew my time would not be spectacular.

After seeing my brothers and husband off at the 10 mile start, I got in line for Corral 3. When they sang the National Anthem, I said a quick prayer thanking God for the opportunity to be out there running, for my health, and for my VERY supportive family. They played "Everybody Looks Good at the Starting Line," and we were off! My plan was just to go at a comfortable pace, have fun, and hang out at the back of the pack.

At around mile 0.5, I complimented a woman on her shirt. It had the tracings of her 2 kids' feet and said something to the effect of, "We're behind you mom!" With that, I met Shelley. She was running her first marathon ever. We talked about our families. I told her some of the fun parts of the course to look forward to and where the hills would be. Sometimes we talked, sometimes we just ran together. We were very matched in pace, so we just stayed together. Around mile 12, John joined us. He had been running near us for most of the race. It was also his first marathon. His son was born on the exact same day as Henry but had had some initial complications, so his training wasn't what he'd hoped. Twelve miles was his longest run. I invited him to run with us, so he did. We ran along the river together telling stories and jokes and enjoying the gorgeous day. Normally, I would have thought it was much too hot, but this year I was glad it was a little warm so Henry wouldn't be cold while he was out cheering. I was so happy to be running, and though the typical aches and pains of a marathon snuck up on me earlier this year, I was having a lot of fun. In contemplating my goals for the race earlier that week, I had decided it would be to hang out with people at the back of the pack and to enjoy myself. If I could find a newbie to cheer on, that would be an added bonus.

John ran with us until mile 22 or so. He was stronger up the hill. I saw him look back a couple of times while he was ahead of us, but by that time, we were on Summit Ave - the home stretch. I hoped he'd go on without us if he was feeling good, and he did. Shelley and I ran Summit together. We never had to stop and walk, though our pace was slowing down. I was just so happy to still be running and to still be feeling relatively OK. We looked for her family around mile 24 and then looked for mine at mile 25.5. I beamed when I spotted them! I high-fived my family and smooched my baby.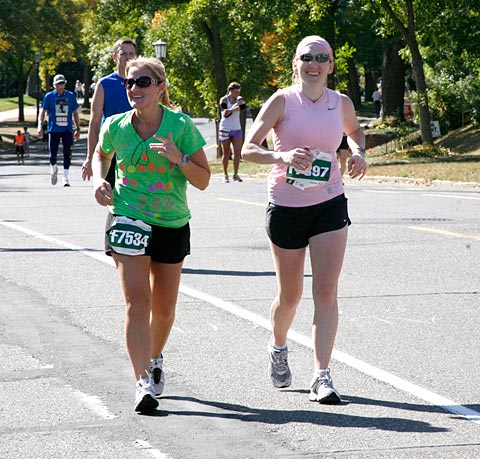 Shelley and me at mile 25.5
I spotted the giant flag near the finish line as I crested the hill by the Cathedral. Shelly and I picked up the pace and ran to the finish line together. When we crossed, I congratulated her and asked if I could give her a hug. "I wish you would!" she exclaimed. We hugged twice.
A screen shot of the finish video - our hug was caught on camera
I congratulated her again, and I made my way up to find my family. This was my second slowest marathon ever, but honestly, it was one of my most fun.
This week, I checked my mailbox at work and found this: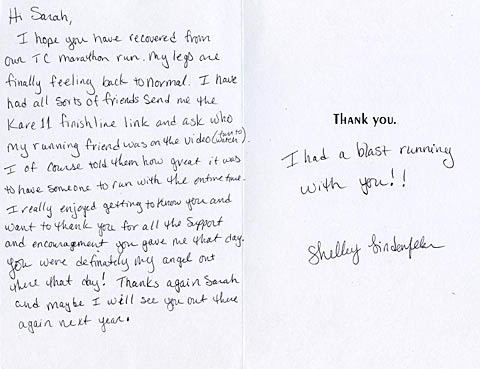 This letter made my day!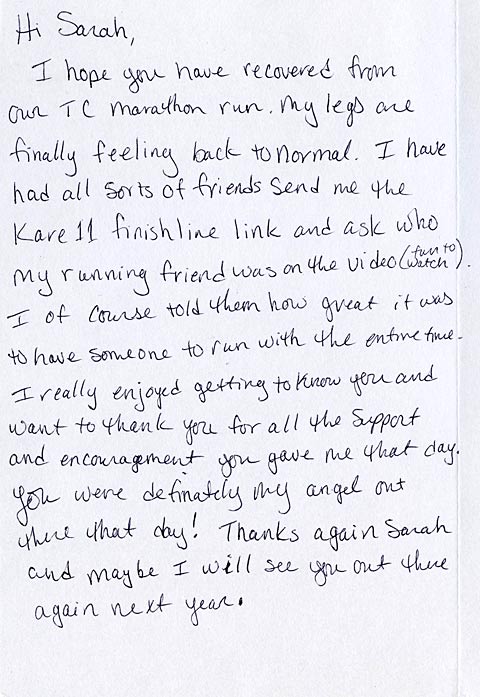 A closeup of her thoughtful letter
Next time you show up at a start line with a sinking feeling that you're not about to see your best time, consider being a "Race Angel." You may help someone fall in love with the sport and have a blast in the process!