Here's Sarah's report on her 13th consecutive(!) Twin Cities Marathon. Awesome!

Sunday was the running of the 31st Medtronic Twin Cities Marathon. It also happened to be my 32nd birthday and the 13th year in a row that I've shown up at the start line of this race. As I mentioned in my last post, I was excited to be able to run this race with my coworkers Laura and Tzivia.

My coworker Jared asked me the Friday before the race if I was nervous or if this was "old hat" by now. I answered honestly that the distance doesn't really scare me anymore. At this point in my life, I'm not going for marathon PRs. My goal out there was going to be to have fun, and I was hoping to see Laura to her first marathon finish.

After some tasty pasta on Saturday night, our alarm went off at 6 AM on Sunday. One of the things I love about doing a close race is that my race morning alarm clock was actually set later than my normal work week alarm. Steve, my brother Matt, his girlfriend Angela (who was running her FIRST marathon), my cousin Ben, my Aunt Nancy, and Steve's parents all caravanned to the start. We stopped to snap a pic of the racers before heading our separate ways: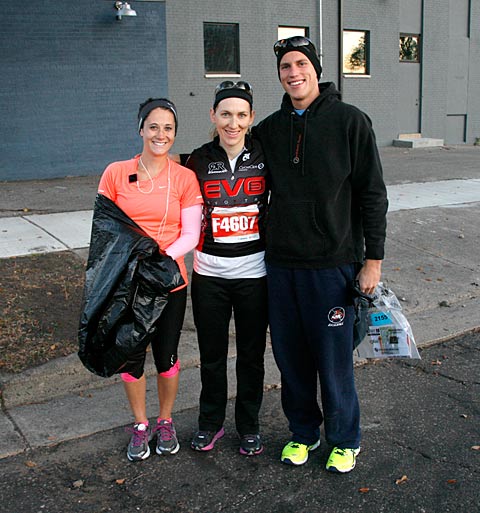 Angela, me, and Ben trying to stay warm!
Tzivia, Laura, and I had planned to meet at a specific gate at the Metrodome. It was one that Tzivia's friends were also meeting at. Unfortunately, it also happened to be THE MAIN GATE THAT 11,999 OTHER MARATHONERS WERE ENTERING AND EXITING. It was a terrible place to meet, and after 25 minutes of searching for Tzivia and/or Laura, I realized that there was a good chance I wouldn't find either of them. I made my way out to the starting line. A little bit of dread started to set in. I realized that the race I was planning to run with a couple of really fun girls was maybe going to be a solo race. I really don't mind running alone, especially since I have a gift for making race friends, but that wasn't what I'd been mentally preparing for. At the back of my corral, I spotted Tzivia! She told me that she had been with Laura but Laura had gone back to look for me one more time. The corral was filling up fast, and Tzivia decided that she needed to get in line. "I can't be behind the 5 hour runners," she said. "You don't want to see how big of a mess I'll be if I have to start back there."
I waited. I waited some more. Dread was setting deeper and deeper in the pit of my stomach, and then I spotted Laura! I was so relieved that I nearly cried. This was going to be a great race after all. Laura and I got in line. We positioned ourselves off to the side. I had been so busy looking for my ladies that I never got to make one last trip to the porta potties, and I hoped this wouldn't come back to haunt me (it didn't).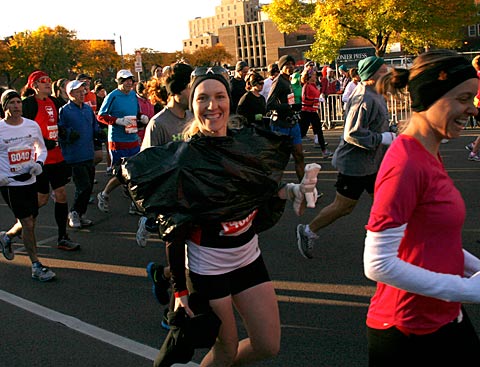 Laura and me just after the start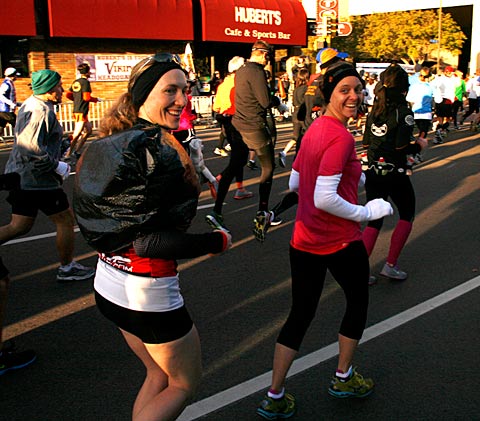 We were pretty excited to get started!
The start of the race FLEW by. I pointed out some of my favorite traditions - whooping under a tunnel in downtown, running by the Basilica while its bells were ringing for all of the runners, and seeing the lakes. We laughed and shared fun signs were reading, we talked, and we ran. Literally before I knew it, we were closing on mile 6, then mile 8. I was feeling good. The weather was still chilly at just over 30 degrees, but I was glad I'd decided on shorts, mittens, an ear band, a sleeveless top, and my Evotri bike jersey. We saw Laura's husband Jared at mile 11. He was biking bits of the course, and we'd see him countless more times before we crossed the finish line. I knew to look for my family at mile 15. When I saw them, my jaw dropped. My mom was there with the rest of our cheering section! She was able to take a few hours off of work to come watch the race. What a fun surprise!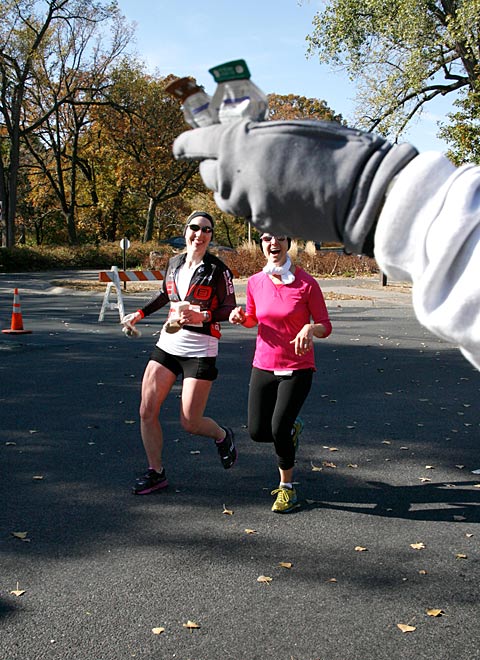 My mom holding up some extra Gu. Let it be known that
Mint Chocolate Gu is nectar of the Gods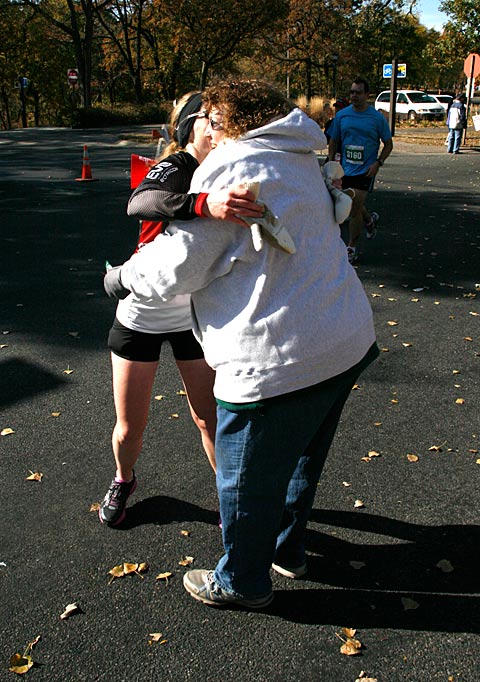 She gave me a big birthday hug, I shot a smile to the rest of my family, and we were off again. I was so excited to see them all that I forgot that I was going to leave my mittens with them!
Mile 16 is always the hardest mile for me at a marathon. The pain has started to set in at that point, and 10 miles to go seems like an awfully long way. This year was no exception. The crowd was AMAZING out there, just like it is every year. People have huge speaker systems to blast fun music, bands come out to play, families make fun signs to come and cheer, and neighbors have fun block parties. I tried to focus on all of the fun and a little less on any pain that was creeping up on me. I was wearing my SI brace, and though my sacrum was starting to ache, I found that tightening the brace every once in a while brought it back to manageable.
Soon we were at mile 20. "Only a 10K left!" I chirped to Laura. She smiled and agreed that we were going to do this. We weren't talking much any more. We were just focusing on the hills coming up, soaking in the sunshine, and pushing forward.
By the time we hit Summit Avenue, I was feeling good. Laura was starting to suggest that I go on ahead, but I didn't want to hear it. We were going to finish this together. We spotted a few supportive coworkers who had come out to cheer along with other friends as we made our way toward the Capitol. Though our time started slipping, I was thankful that my training was good. That 22 miler a couple of weeks ago made a HUGE difference in my physical and mental endurance. I focused on keeping my stride smooth and even. My legs were starting to ache, so I told myself to put them on autopilot and focus outside myself. I offered Laura encouragement, high-fived the little kids, and thanked the spectators for coming out. I laughed at the signs and one guy's T-shirt that said, "Free kittens at the finish." The race was flying by, and I was soaking it in.
I looked for my family at mile 25.5. Henry and my sister Annie had joined them: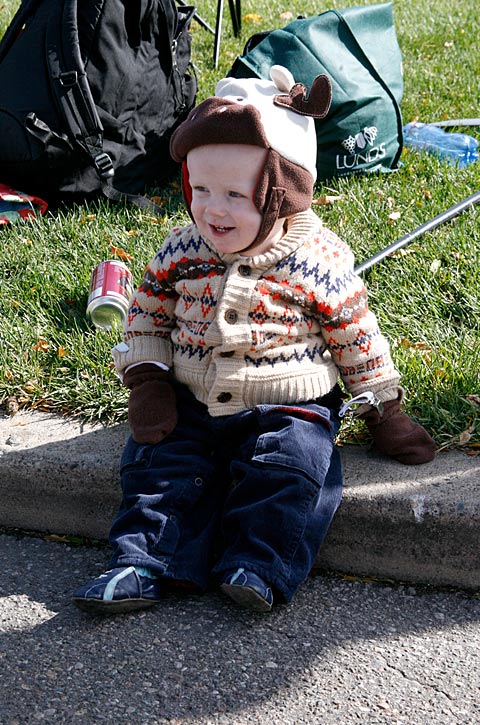 Henry sporting his new "old man" sweater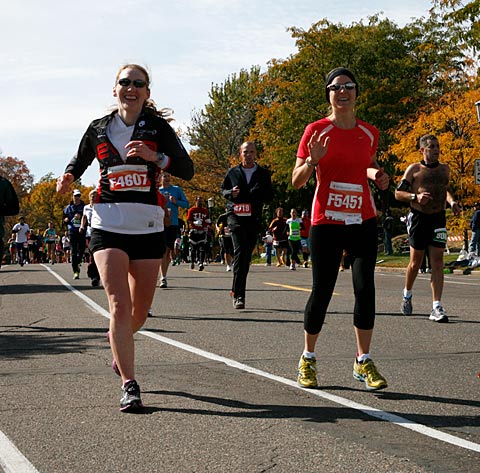 I was still smiling like a lunatic after all of those miles!
We crested the hill and ran down to the finish line. It's always such a beautiful sight with a huge American flag waving over our heads and the Capitol in the background. We crossed the finish line, high-fived, and hugged. We finished in 4:23:52 - a pretty average time for me, and one that I'm proud of since I felt great and have been trying so hard to find balance between work, being a wife and mom, and endurance sport.
I made my way back up the hill to find my family - medal around my neck, chocolate milk in hand, and a smile on my face. Running a beautiful marathon in your city is a great way to celebrate a birthday. The icing on my cake? Getting a giant birthday hug from this guy: